2023 NC Truck Driving Championship (TDC) and Top Tech Challenge
6/9/2023 - 6/10/2023
Description
We are excited to host the North Carolina Trucking Association Truck Driving Competition and Top Tech Challenge again in 2023!
Below you will find information on sponsorships, registration, volunteering, tent space requests, awards lunch and hotel information.
---
SPONSORSHIPS
We are restructuring the sponsorships for the TDC | Top Tech Challenge this year to be more in line with our other conferences and to allow more overall visibility to our sponsors throughout the enter event. To sponsor one of the Itemized Sponsor Add-on Opportunities you will be required to have a Base Sponsorship first and then if you choose, to add-on an Itemized Sponsorship. To keep the overall sponsorship prices in line with past years we are adding in a Bronze $500 Base Sponsor level to this competition only (for example, the Barricade sponsorship that cost $1000 last year will be available at the same price this year with a Bronze base sponsorship and then the $500 Barricade add-on). These changes will allow our sponsors to gain more visibility throughout the entire event, registration process and during the event promotion instead of just at the Itemized Sponsor Item as in yeas past.
Base Sponsorships

Increase your visibility with an Itemized Sponsor Add-on Opportunities
***Base Sponsorship Level Required for Add-Ons***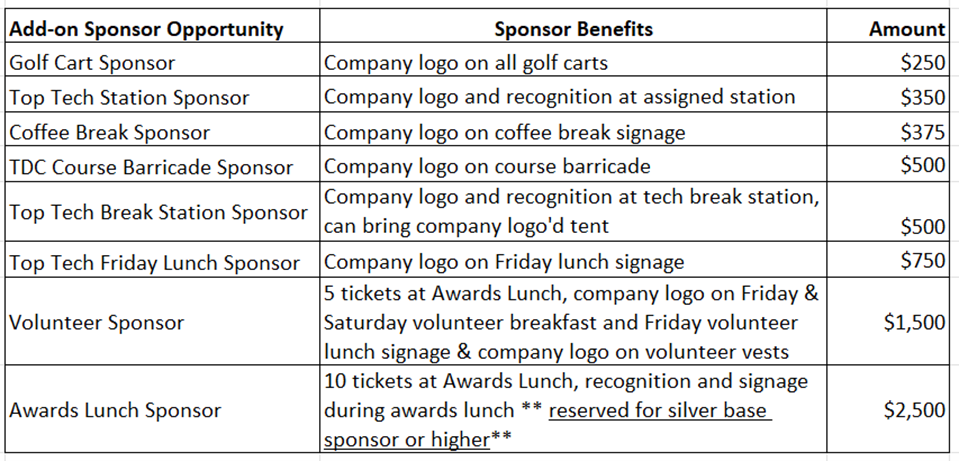 ---
REGISTRATION (Deadline is May 20, 2023)

Truck Driving Competition
Entry Fee: $150 per driver
Eligibility:
~Be based in North Carolina & have been continuously employed for the previous 12 months
~Have an accident-free driving record for the previous 12 consecutive months
~Have the proper CDL endorsements for the class driven
~Be employed by an NCTA member company
Competition is limited to 27 drivers per company with a maximum of 3 drivers per class.
Top Tech Challenge
Entry Fee: $75 per technician, students at North Carolina Community Colleges are free.
Eligibility:
Contestants must reside in the state of North Carolina and be employed by a member of the North Carolina Trucking Association or be enrolled as a student at a state sponsored college or university that has a transportation program. Contestant must sign and return agreement and release form upon registration.
---
DRIVER OF THE MONTH / DRIVER OF THE YEAR

The purpose of the this program is to recognize North Carolina truck drivers for their commitment to safety and professionalism during their driving career. Driver of the Month is based on 12 months of performance and Driver of the Year must be a previous Driver of the Month recipient. Winners will be recognized at the Awards Lunch on Saturday following the Truck Driving Championship and Top Tech Challenge.
To submit nominations for Driver of the Month or Driver of the Year fill out the application here.
---
ROAD TEAM CAPTAINS

The NC Road Team consists of commercial truck drivers who excel at their profession and are dedicated to safety, courtesy and responsibility. The NC Road Team Captains promote highway safety and inform the general public about the trucking industry through events such as "No Zone" presentations, driver education classes and more. Nominations for the 2023-2024 year are now open.
To see the qualifications or to submit a nomination for Road Team Captain view application here.
---
AWARDS LUNCH

**The Awards Lunch is a Ticket-Only Event**
The Awards Lunch on Saturday from 1:30pm - 2pm is to recognize Winners from the Truck Driving Competition, Top Tech Challenge as well as Road Team Captains, and we will also be recognizing the Drivers of the Month and Driver of the Year.
Entry to the Awards Lunch is included for all competitors with their registration. Additional Award Lunch tickets will need to be purchased for family, guests and company representatives. Awards Lunch tickets will be picked up at the registration table and will only be distributed to the purchaser or the Authorized pick up person.
---
HOTEL INFORMATION
Four Points by Sheraton Raleigh Arena
$149/night
1200 Hurricane Alley Way
Raleigh, NC 27609
(919) 854-0502
1 mile from the NC State Fairgrounds
Hampton Inn and Suites Raleigh/Cary 1-40 PNC Arena
$179/night
111 Hampton Woods Lane
Raleigh, NC 27607
(919) 233-1798
3 miles from the NC State Fairgrounds

Embassy Suites Cary
$199/night
201 Harrison Oaks Blvd.
Cary, NC 27513
(919) 677-1840
5 miles from the NC State Fairgrounds
---
VOLUNTEER
Volunteers are critical for the event's success, and it's a great way to experience the TDC/Top Tech! To see the shifts and roles available, check out the volunteer registration form. Assignments will be sent out by email prior to the event.
---
RESERVE TENT SPACE
Any company wishing to reserve tent space must fill out the request form prior to May 27, 2022. All spaces will be assigned by the TDC/Top Tech Committee prior to the event, locations and set up information will be emailed prior to the event.
---
CAMPING INFORMATION
If you are interested in camping, you will need to contact the NC State Fairgrounds Ground Patrol at (919) 612-6767. Space is available on a first-come-first-serve basis and must be arranged through the fairgrounds.
NC State Fairgrounds



Raleigh

,

NC

United States



Categories
Top Tech Challenge
Truck Driving Championship